How to Create the Ideal SURFACE featuring Amber Mill (2 Day Hands-on Course)
November 17 @ 8:00 am

-

November 18 @ 5:00 pm

PST

$895.00 – $995.00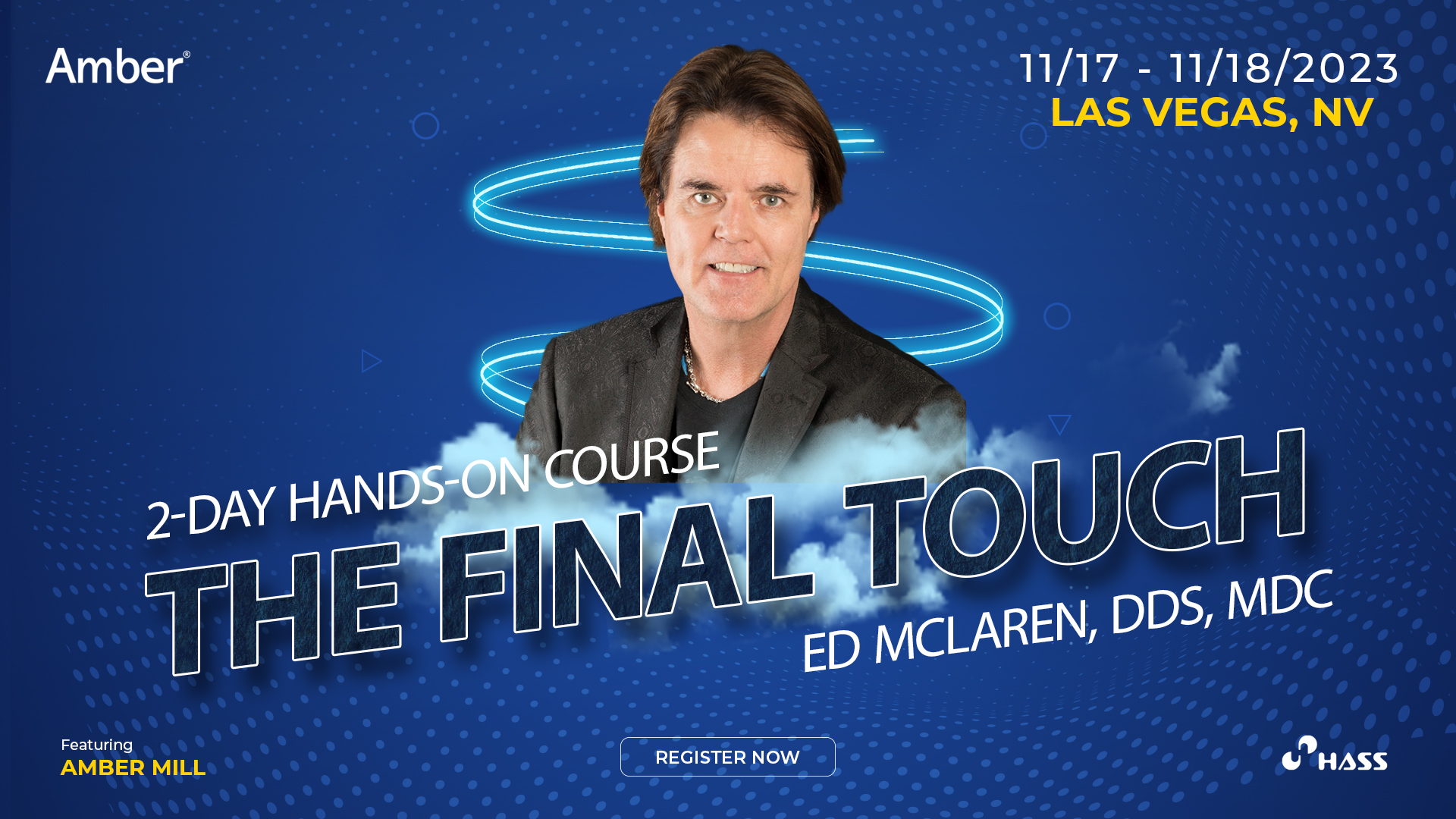 The Final Touch
2-day Macro-Micro Course
Presented by Edward McLaren, DDS, MDC
designing and creating anterior teeth using new high strength glass ceramics, to form, contour, finish, and polish
The proper space management, contour, surface texture, final surface color, and polish can take average looking restorations and create an exceptional esthetic result. These steps are critical to the success of dental restorations weather it is composite or ceramics. The micro hand skills of "micro texture can also be taught in modeling wax, this can be a very useful exercise as it is easy to change wax. The Author practices his sculpting skills at least once a month in wax as he finds it is the fastest way to keep "trained".
This course is a lecture and hands on course that features AMBER MILL as a medium to design, form, contour, finish and polish anterior teeth. The lecture part of the course will cover the following topics:
(1) the step-by-step process of managing the design of 4 anterior teeth for a specific maxillary arch relationship.
(2) Specific guidelines for esthetic tooth arrangement both in size and position are the key elements taught during this course.
(3) The esthetics of the individual tooth i.e. the individual form and color characteristics of teeth and the inter-relationships between teeth.
(4) Micro-esthetic elements of surface texture, and polish will be covered in a very systematic easily learnable format.
The demonstration and hands on part of the course will cover the armamentarium and the step-by-step process of these vital steps of form, texture, surface color, and polish. Part of the course will be taking 4 maxillary teeth that have been MACHINED as 4 oversized blocks of AMBER MILL and specifically determining the correct esthetic parameters of midline, tooth length and width, inter-tooth width relationships. Once these parameters have been determined the step-by-step process of creating these macro-dental esthetic relationships will be demonstrated and participants will do the same. Micro-esthetic parameters of form, contour, surface texture, and polish will be reviewed in great detail and participants will accomplish all these important skills. All of these skills will be taught.
Topics Covered:
1. Space management and Shaping 4 anterior teeth.
2. Contouring 4 anterior teeth
3. Texturizing 4 anterior teeth
4. Surface color, and glaze
5. Polishing 4 anterior teeth
16 CE Credits will be awarded to participants